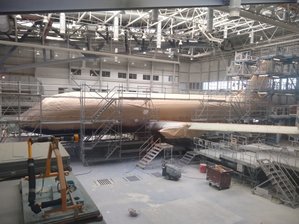 Established Support
AeroDOT Limited is a highly respected UK based Company providing specialised support and technical solutions to the Aerospace, Airlines and MROs Globally. A high magnitude of expertise has accrued within Aerospace Project and Business Support in terms of Development, Operations and Training - with substantial aerospace sector credentials, recommendation and testimonials.
An extract from the Aerospace Wales Members' profile ...
AeroDOT Limited - Aerospace Development, Operations and Training – Business and Project Support ... Our recent business development projects include design and commission of a Honeywell ALF502/LF507 engine test cell.
Operations include material management and spares recovery of RR Gem, RR Adour and PW JT9 engines.
Training capability extends to Engine/Aircraft Familiarisation and Type (including EASA Part 147 Accredited), Borescoping, Aircraft Paint and Finishing (GR10) Fuel Tank Safety, EWIS (SFAR88) and Aerospace OJT work-based NVQ & PEO programmes.
Recent completed training contracts have included BAe Hawk/RR Adour 'Q' Course Training for RAF Red Arrows engineers in association with Babcock International, Honeywell ALF502/LF507 & RR Adour type training for CFS Aeroproducts and BAe Hawk/RR Adour familiarisation training for AirUSA groundcrew ...
History ...
Founded in 2014 - AeroDOT Limited was created to provide the aviation marketplace with specialist support services in the form of a 'one-stop-shop' ... To this end, the overarching themes of 'Development, Operations and Training' provide the platform for Business and Project Support activities.
Whilst most organisations are judged upon the magnitude of their capabilities, AeroDOT prefers to project its reputation through the professionalism, integrity and sheer personality of its unique team ... Most people will be aware of Kaizen's '7 Wastes' - an unwavering key AeroDOT philosophy, is that of the under-utilisation of human potential is akin to that of an 'eighth waste'.
Our Director of Operations - Tim, has the type of background that instills confidence and a reassurance that is respected across the aviation industry. With now four decades dedicated to Aerospace, he has accumulated a wealth of relevant experience.
His formal training was within the RAF where he qualified as an Aircraft Propulsion Engineer, going on to employment on various fast jet and passenger aircraft together with extensive engine shop overhaul and testing of numerous aero engines.
Tim went on to qualify as a teacher and eventually combined 'careers' to lecture in Aerospace Engineering at several Colleges and Universities designing and delivering courses from Mechanic to Graduate, including EASA Part 66 Modules. Tim continues to hold EASA MTOE priveleges with several EASA Part 147 organisations within the capacity of Basic Training, Type Training and Regulatory Training - as well as developing bespoke courseware for the less common topics as requested by clients Worldwide.
Whilst flip-flopping an existence between academia and the commercial aviation industry - he has taken on several challenging appointments and projects with high profile EASA 145 organisations, amongst others - TES Aviation Group (Project & Operations Manager) Babcock Defence Systems (Training Systems Architect), Airbus (Training & Development Engineer), CFS Aeroproducts (Powerplant Programme Manager) and AirUSA (CAMO).